GAC Fitness
Rebecca and Chico Grajeda
Springboro, OH
Based in Springboro and open 7 days per week. Rebecca and Chico took over in May, 2015.
They have 20-25 employees.
GAC is a 13,000 sq ft fitness facility, athletic team training center and, soon to be, Boxing Gym.
Rebecca and Chico both have formal education in Nursing and a Passion for Fitness, health and Wellness. That Passion is what has pushed them through many challenges and obstacles.
We have been working with GAC since November, 2015, for a total of 18 sessions and 21 hours of counselling. This support will continue as they continue to grow.
Areas of service have included:
Business Plan Analysis
Financial Management
Marketing
Strategic Planning
Business Concept Discussions
Organizational Review
Some specific support examples are:
Interface with the City of Springboro re: the commercial lease and permits & licenses required for property improvement and new construction.
Consulted to resolve rent & utility billing issues and maintain a Positive Cash Flow.
Helped to coordinate a loan application to purchase assets from the previous owner.
Helped implement a personal capital injection to update the club and equipment and provide operating expenses.
Creating promotions and connections with the Springboro and Franklin Chambers to attract new customers and boost revenues.
We have done a small part to help GAC Fitness survive Year 1- the Hardest Year! Rebecca and Chico have accepted the risk to their professional reputations and financial lives. They have never given up! They are both fighters, both in and out of the boxing ring.
Please welcome Rebecca and Chico Grajeda of GAC Fitness.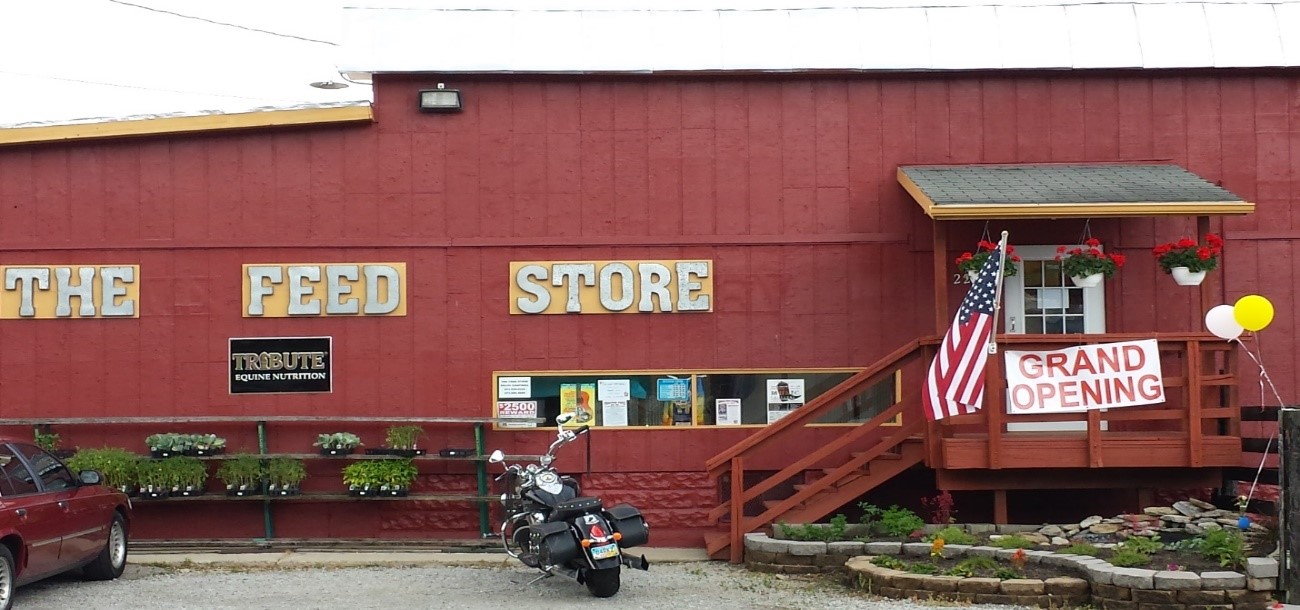 Lebanon Feed Store
Ralph and Jean Campbell @ 220 S. Sycamore Street, Lebanon, OH  45036 www.lebanonfeedstore.com
Mr. and Mrs. Campbell opened the Lebanon Feed Store in April, 2016. It is a "small town" business specializing in the needs of the local farming, agriculture and home & garden community. Inventory includes: Feed for livestock and large and small animals, home gardening plants & supplies, agriculture assistance and resources. They have an in-store community bulletin board for local organizations to post contacts and events.
The Campbell's were referred to the SBDC by a Warren County official, to provide in-depth business and strategic planning. They wanted to start a new feed business, but timing and conditions were just not right in 2014. The SBDC staff continued to mold their business and organization plan, prepare financial projections, offer marketing ideas, provide banking and real estate connections, and form the new company entity. The Campbell's worked with the SBDC for 9 meetings and over 13 hours. 
One specific issue was real estate evaluation and the loan application. The Campbell's had looked at a few sites in the County that could accommodate their business. The SBDC suggested multiple options to purchase, rent or lease the different spaces, and would be workable within their plan and credit situation. We put them in an advantageous position with several choices. 
"The Warren County SBDC has been there with us every step of the way. They gave us valuable advice to help us achieve our dream. They are a valuable asset to the community", Ralph Campbell said.
During this lengthy process, as fate would have it, the feed store where Ralph had worked for 25 years suddenly closed. Now they were ready. The Campbell's seized the opportunity to move in, using industry contacts, local knowledge and SBDC support. They worked day and night to remodel the 78-year-old building and grounds. With the help of friends and relatives, the Mill has been restored. The Campbell's have managed to create 5 jobs for Lebanon.
Ralph is also a Board Member of "Main Street Lebanon". This non-profit is one of 38 "Ohio Main Street  Communities", designed to create and sustain a vibrant downtown. But, just as important to the Campbell's, they are proud to carry on the Warren County feed and seed tradition!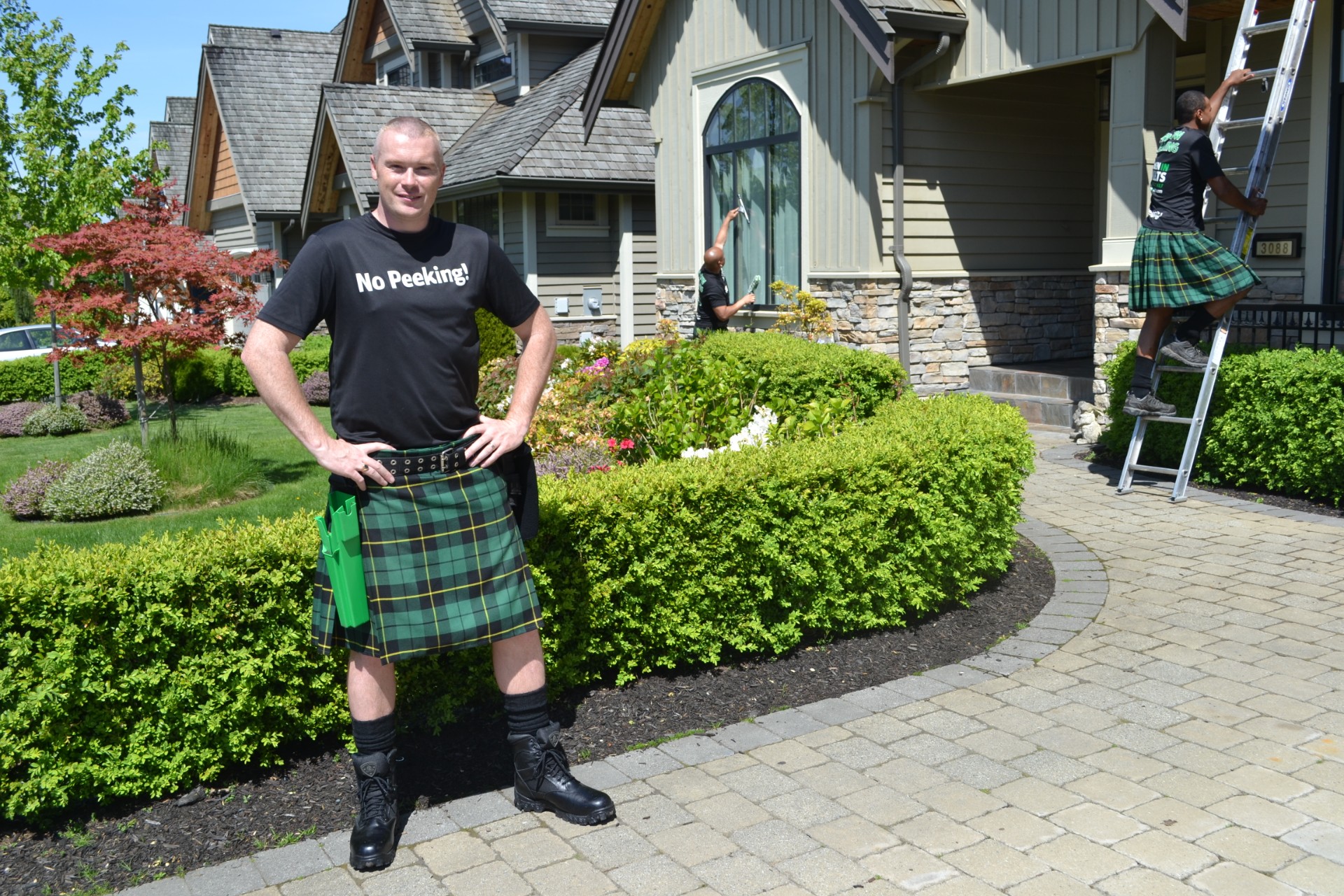 Men in Kilts
If you're wondering why there have been so many green, black and yellow kilts around town lately, you're not seeing things.
Jennifer Faz, a successful, self-employed digital marketing consultant in the Cincinnati area, is now the owner of the first Men In Kilts window and exterior cleaning franchise in the Midwest. Men In Kilts provides professional window cleaning, gutter cleaning, siding cleaning, and pressure washing services to Cincinnati's residential and commercial customers in their KILTS! All our work is fully insured and backed by a Clean Guarantee. The Wallace Hunting kilts have been turning heads around town since the business scheduled its first job in April, 2016 and Cincinnati continues to welcome this exciting, new concept. 
The Men In Kilts brand is fun, family friendly, and just a little cheeky (especially on a windy day!). When people hear of their "No Peeking" policy, it means they have usually accomplished their mission- which is "to bring smiles to the world, one kilt at a time". While their kilts do all the heavy lifting when it comes to getting noticed, the professional service and reputation keeps their customers coming back.
The Men In Kilts brand attracts franchise owners who are looking for excitement, don't want to sit behind a desk, and are bored wearing pants! As a self-employed consultant and single mother, Jennifer Faz was looking to invest in a business that could offer a guaranteed income, planning well ahead for retirement. She funded the business with a personal equity investment that included the franchise fee, a truck and equipment as well as working capital. 
"A service franchise seemed like the perfect fit because of its operation support, proven systems, training and low overhead. The Men In Kilts brand offers a distinct edge over its competitors and I knew if I could find the right employees, I could drive the business in an effective way using my marketing expertise". 
In fact, it was Faz's marketing prowess that drew her to the Men In Kilts concept. "As a marketer for nearly 20 years, I was instantly attracted to this fun and unique brand. And as a homeowner myself, I know how difficult it ca be to remember the name of the guy who cleaned my gutters the year before. Once you see Men In Kilts, you never forget us". 
Men In Kilts was started in 2002 by Nicholas Brand, a Vancouver-based Scotsman who fashioned a hand-sewn kilt and put a visual to the otherwise faceless window cleaner. By 2009, the business had grown to over one million dollars in revenue. Men In Kilts now has franchise locations across north America and plans to expand to every major metro area by 2017. By opening the first franchise in Cincinnati, Ms. Faz was able to create 4 jobs in Warren County. 
Jennifer is currently the Men In Kilts Cincinnati area franchisee, plus works as Project Manager for Valvoline. She also owns a marketing and consulting communications business called Marketing Soul, LLC that develops and executes on-line business strategies. Ms. Faz is a self-starter, organized, creative and a professional leader, all important entrepreneurial characteristics. 
Jennifer contacted the Warren County SBDC in November, 2015. She worked with us through 7 sessions of almost 13 hours of contact and prep. She had a need to create a business plan, review the franchise agreement, and to understand cash flow projections. We connected her to many service providers, including attorneys, bookkeepers, accountants, the SBA, and the Ohio Bureau of Workers Compensation. The SBDC helped her outsource her "door to door and corner to corner" marketing efforts. 
"The Warren County Small Business Development Center has been a wonderful resource that has helped me properly and successfully launch and grow my business. I have really enjoyed their support. It's nice to have someone to call who can be your advocate in helping to navigate through the various unknowns when starting a business" said Jennifer. 
If you'd like to try Men In Kilts professional service for your home or business, you can reach their friendly call center at 800-777-KILT (5458).